Leaders:
Have you noted we're all getting a zillion more emails nowadays?  What do these people think, we weirdly have MORE time?  Sheesh!
With that preamble, I'm going to do two things.  The first will be very familiar to my thousands of delighted and enthusiastic readers:
#1.  Suggest that since each of us is operating in very different times and in hugely different ways, we make sure some of this forced "innovation" ends up applying to our business model; and,
#2.  To insist you watch this short CLIP for inspiration.  If these musical talents can "innovate" how they play instruments which are far older than Guttenberg's press, THEN       SO       CAN       WE!
Stay Safe and Healthy and Successful Out There!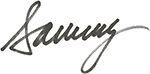 P.S.  Perhaps there's someone who will view the clip and not smile, but I don't want to know!