Greetings:
In honor of the "extra" day we enjoy this month I've gone extra deep into my bag-of-tricks.  After multiple iterations I decided all had the same priority – so, call it a dead heat>
MOST IMPORTANT:  This applies to any business or organization, but when operators (say, Ad Directors, Group Publishers, Regional VP's, etc.) are hesitant to act and feel helpless and conflicted because of inadequate, uncertain or ever-changing corporate communications BAD THINGS TYPICALLY HAPPEN.  Most of the time that means "nothing" occurs - "nothing" is the worst decision possible!
EQUALLY IMPORTANT:  The secret to success is setting the right goals.
Work with me – if you've recently been hired, promoted, bought, sold, merged, divested or otherwise find yourself with new bosses or subordinates ask yourself: "Are the right goals in place and are expectations crystal clear in the eyes of each-and-every stakeholder?"
If you are a boss, be 100% sure that's the case; if you are rank and file, demand S.M.A.R.T goals.  The acronym stands for – Specific * Measurable * Achievable * Relevant * Timely.
COMPARABLY IMPORTANT:  Even with clearly articulated S.M.A.R.T goals it will take multiple iterations (minimum of three) for stakeholders to fully understand.  Even more for the goals and actions to achieve those goals to become a part of your organizational DNA.
RELATED AND IMPORTANT:  Rewards don't necessarily work!
I won't bore you with the lengthy litany of studies proving this and my bet is you already know it – for the most part monetary rewards do NOT improve performance.
HUMANS want:
Purpose
Meaning
Acknowledgment
To make a difference
To be appreciated
To have a modicum of control
Is that the case in your operation?
Now, having said all this, I owe you an apology and a pledge:  As a boss, as a partner and even as an employee, my actions have not always been consistent with these words.  I believe as fervently as possible in what I just wrote and you just read but have not always executed against those beliefs.  Please accept my apology – I will do better!
All my best.   Enjoy the "extra" day this month and do something great.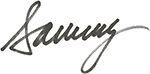 P.S. Who is Interested?  I'm seeking companies/operations willing to partner on an innovative – dare I say "game-changing" – new go-to-market strategy.  If you are willing to genuinely shake up your status quo, we need to visit!!