Here's hoping your new decade is off to a great start!
See if any of this resonates…
I cannot tell you how often I've been out on sales calls or interacted with sales executives who:
 Talk too much
 Pitch media-centric, short-term solutions
 Simply leverage their acquaintanceship (less than a true business relationship) with the customer and little more
It ASTOUNDS me how often this happens.
As my dear friend, Phillips often shouts, "…What is wrong with you people?"
It's really not that hard.  Sales LEADERSHIP (not "management", but leaders who consistently actually make sales calls themselves and I am certain will get this!) must absolutely, positively insist on the following:
1) THINK BIGGER!
No more one-offs!  Ever.  A thoughtful, needs analysis driven combination of the relevant solutions we have to offer MUST be what is proposed.  The good news is this is EXACTLY what both prospects and current customers seek!
No doubt this will have variations, but here's a "rule of thumb" that likely applies to you – when we talk about all our digital and expanded offerings (web, mobile, events, apps, you name it) the total audience most media organizations reach is approximately 10X greater than our legacy print reach.
If you are clever enough to layer in how much that expanded audience plans on spending or if you have a modicum of marketing intelligence on what might be of interest and engage that audience (geofencing, digital history, etc.) then it will be a compelling offer!
Follow up critical point – when you use spending or shopping intent data you'll also find it easier to ask for LARGER campaigns.  Humans tend to underask, but we CAN and must do better.
2) RELATIONSHIPS 
Don't get me wrong; you SHOULD leverage them – appropriately! Much of sales is building trusted relationships so you can introduce new solutions, count on relevant feedback and occasionally feedback about what works, doesn't and even 411 on the competition.  That's all good!
Yet, if you don't dedicate time to growth through prospecting, lamentable things happen:  A) the worst?  You stop cultivating prospects; and, that leads to, B) you'll NEVER (I mean NEVER) have enough! Or, C) you'll inadvertently take advantage of these relationships and that will tarnish them.   See Item #3.
3) HORIZON
Newspaper media is as bad or worse than any industry when it comes to shortsightedness.  When some have as many as 80 annual special sections or initiatives it's impossible to look beyond the next deadline.  This creates dynamics that ultimately work against us.
For instance, the "boss" pushes us to hit the revenue target for this project or month by encouraging (or stronger?) one of our good accounts to participate; yet, we really and truly don't think it's in their best interest.  Not good.  What to do?
Or, we don't spend enough time really and truly learning about a customer and therefore our suggested solutions are not as good as they should be and undoubtedly what "we" want.
Sales is a marathon!  We HAVE to think long-term!  Ideally, we engage with 30 – 40 customers weekly.  A quarter to a third of those will be true prospects.  Week in and week out.  Again and again.  The best executives will develop a cadence or rhythm that makes this become a routine so that it comes naturally.
4. LISTEN
Ah, the sounds of silence!  Or, at least the sounds of you asking questions and probing and getting a prospect to open up and tell you more.  That's magic.
One of my favorite aphorisms?  When in doubt, Do!  When modified for sales it becomes:  When in doubt, ask more questions.  I've yet to find a customer or person who does not respond well to being asked more about them.  About their business?  What they think?  How they'd handle an opportunity?  If they have a referral?  If they'd like to know how to reach more of their customers?  Their family?  How we can be of service?  How did they become such a success?  The list goes on.  Every organization should have a list of 20 in their "hip pocket", ready to use as needed.
Sound good?  Good luck in 2020.  Would love to hear if any of these thoughts help or you'd like to visit one-on-one – just say when!
Happy New Year!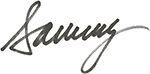 P.S.  Bonus 411 – this LINK to a piece from the NY Times Opinion pages is all about listening – a perfect complement to Item #4 and definitely worth checking out.