Seasons Greetings:
Here's the holiday sampler from Beyond the Horizon.  You'll find ideas, observations and gifts for all good readers.  Hopefully, a nugget or two to bring good cheer…
…Check out www.mindmaze.com and their MindMotion Pro rehab system.  This VR interface is specifically geared to help stroke victims "see" their recovery.  The result is more motivation and better outcomes.  Think about the possibilities – in all fields!
…When auditing local competitive media (everyone does this, right?) be sure a portion of your effort focuses on traditional TV dollars that will be "forced out" in the upcoming expensive 2020 political season.
…Do you ever wonder why one of the very 1st things a CSR asks you when calling the AT&T (fill in any similar service provider) customer service line is the best number to call you back if disconnected?  Doesn't that fill you with confidence?
…I've mentioned The Skimm before.  They now provide more than their daily fast read with a very distinct "voice", but podcasts, books, medical advice, recommendations, you name it.  Do you have a "voice"?  How is that voice being leveraged?
…In a recent conversation with a client VP of Sales he lamented, "…The biggest problem we face is our declining account base!"
Newspaper-media (this applies to virtually all sales endeavors!) has basically relied upon the same categories of business to drive revenue for decades.  Starting now we MUST:
In a very systematic and disciplined manner pursue NEW businesses in NEW and distinct categories now that everyone presumably has more, relevant offerings; and,
After (most of the time) a thorough Customer Needs Analysis (CNA) present a solution (s) describing the potential TRANSACTIONAL VALUE* of the audience you deliver.  By doing this, you'll be able to sell more comprehensive, longer and more lucrative campaigns with a higher likelihood of success, and, therefore, greater retention.
You CAN do this, right?  You are NOT selling price any longer, for sure!  You wouldn't consider selling an individual product/solution. And, the thought of selling a single special section makes you nauseous.  If all those don't apply, please immediately alter behaviors until they do!
…Think (I mean it, stop and THINK) about this statement from Alibaba Group President Michael Evans:  "Consumers don't think about the world online vs. offline, neither should brands and retailers!"
How does that apply to the products and services you sell, since I ASSURE you it does!
…The Bombas Socks Happiness Guarantee delivered with every order goes like this – "IF, for any reason in the universe you have a concern, question, or just want to talk, reach out and we'll give you a full refund, send a different size or figure out your issue, no dramatic explanation necessary.  We're not happy until you are happy!"
How does that compare to your guarantee?
…Here's a great suggestion from Tom Peters:  "Have you sought out and over-reacted to a customer (external or internal) problem today?  (HUGE OPPORTUNITY!)"
…Believe it or not, the salesperson in me loves Moxi, the medical assistant robot: https://diligentrobots.com/moxi.  If you think about it, I'll bet you can determine why?  You got it. 
Just like the nurse who has duties that take away from patient-facing care, a salesperson has responsibilities that "take away" from customer or prospect interaction.  This is far-and-away the most common salesperson's lament!  Anything that reduces such "friction" is a boon!  I wonder if sales will ever have a similar robotic "assistant"?
That's it!  My wish is that these 10 notions from myriad perspectives spark an ALTERNATE way to accomplish your mission.  One thing's for certain, if we don't DO different, we all better start looking for our next career!
The Happiest of Season's Greetings to you!  Let's kick ass in 2020, what do you say?!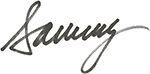 *P.S.  If you've not figured out the TRANSACTIONAL VALUE of the audience you deliver, let me know, there's an easy solution and it's a game-changer!