Howdy:
Whoa!
Apparently, I'm on to something.  These monthly offerings typically generate a half dozen or so responses, yet last month's effort was north of 30!  You're not going soft on me, are you?
Given that "guidance", let me further riff on an emotional theme, then wander into what I think should be commonsense…
Many of you watched the recent Women's World Cup soccer tournament and our National Team defend their title.  If so, you might recall or noted the reference to the decisive Brandi Chastain goal way back in 1999.  After this memorable image was captured she said,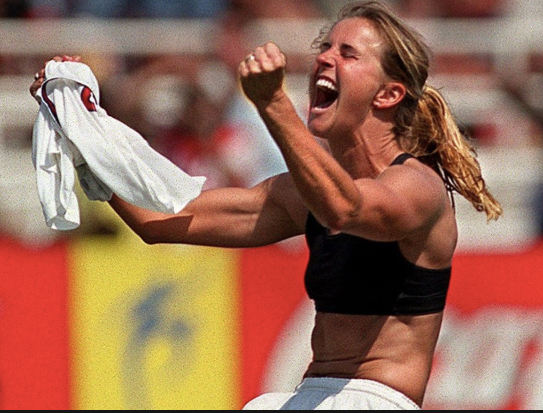 "You have to be brave enough to be vulnerable.  Vulnerability is not a weakness, it is an opportunity for high reward!"
As I see it, this captures what should be fundamental to our go-to-market strategy.  That assumes, of course, everyone actually has a strategy to execute against?
Newsmedia should heed Chastain's "vulnerability" advice and essentially say>
The last decade has been brutal.
Unfortunately, we've not handled it well and for that, we are genuinely sorry!
And, yes, we've made some decisions we wish we could take back.
No doubt there were many times you asked yourself, "…What are they thinking?"
We could use your (consumers and business partners) help!
Here's why we hope you'll consider doing so.
First off, you should know we reach a FAR greater (and growing) multi-channel audience than you might think AND can solve any marketing challenge you have;
The audience (s) we reach are a very upscale, affluent, educated and can buy anything you might want to sell! 
Better still, we can segment that incredibly valuable audience in just about any way you desire!
Deliver that message with candor, contrition, hopefulness and do NOT be afraid to play the "save democracy" card!  When sharing this it should be evident it is incredibly important!  That improves the likelihood others find it important, as well.
ALERT:  That ends the emotional, pull-at-the-heartstrings portion of this enewsletter!
So, what do you do next?  Thanks for asking.  You follow this recipe religiously>
 Regularly (Monthly? Quarterly?) host a Marketing Seminar and/or Happy Hour (call it whatever you want) for customers and prospects.
 Invite/Include key existing partners and partners-in-training.  This event must be special!  Those in attendance should be glad and willing to share that sentiment since you might actually ask them to do just that.
The overriding message goes something like this: "There is an ever-growing list of marketing solutions available.  If something is working for you, then by all means, stay the course!  However, just in case you don't know it, we can very likely be a OneStopShop for digital, events, promotions, glossy magazines, digital billboards, direct mail, printing, podcasts, mobile AND, by the way, we still reach a very wealthy and activated reading cohort who ACT upon seeing adverting in a newspaper.
Thank!
Repeat.
Ideally, attendees will leave this session and be saying to themselves, "Holy Smokes!  I had no clue that stodgy local media news organization could do all that!  I truly want them to succeed so if there's any chance they can really help with the challenges I face, perhaps I should give 'em another chance.  That's just what I'll do!"
Easy enough, right?  You can do this, can't you?  Sure you can!  I cannot wait to hear how it goes, so don't be shy.
Enjoy the remnants your summer.  Talk soon!