Sales Partners:
It's true - you didn't hear from me last week.  With the 4th on a Wednesday, it seemed like you needed the break.  I'm 100% certain I did.  This Monday morning offering is not a Pulse of America (POA) suggestion, but something every bit as valuable -
- Here are three short clips (collectively less than four minutes!) John Marling, President of Pulse Research, recorded.  Each one is about a new AdSeller feature.  We're extraordinarily excited about these and think you will be too.  It's quite possible you are already using them, but I felt it important enough to make sure.  Early indications are that sales executives are digging the heck out of these, so let us know what you think.
You'll find:
If you are not finding these (please check immediately!) options when you log in let me or Pulse know so we can get you up to speed right away.
Much Success!  Have a superb week.
Best,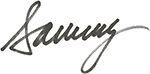 P.S.  For technical reasons I'll never understand, these will not work in Firefox, so use another browser when viewing.