Faithful Readers (One can hope, can't one?):
Every now and then an experience requires me – yes again – to vent regarding the paucity of decent customer service.  This particular "encounter" was as a consumer, but the scarcity applies in the B2B world, as well.
Here's my most recent tale of woe:
The Papert's are shopping for a new car.  We want to replace our workhorse SUV with it approaching 200,000 miles.  We've dutifully done our online homework as much as possible, but we now need to test drive and compare.
With the Volvo XC90 in the hunt I journeyed to the local dealership – SMITH Volvo.
I sat down in the driver's seat of a shiny new XC90 on the showroom floor – then, got comfortable in the second row to evaluate that space as a passenger – next, out on to the car lot to look at others, the price stickers, etc.  Over the course of 10 minutes>
NOT – A – SOUL – OFFERED – TO – HELP!
(BTW, I've since driven the car while out of town and it's a terrific car; too bad nobody at SMITH Volvo bothered to ask!
(Guess who didn't buy a Volvo?)
Not too long ago I was the luncheon speaker/'entertainment' for a group of wine tasting room managers.  You are correct when thinking to yourself, "…most of Sammy's experience and background here is a result of consumption!"  The topic was Customer Service.  They were seeking a different perspective - I hope that's what they got.  Here's the slide I trotted out to talk about Managing the Experience.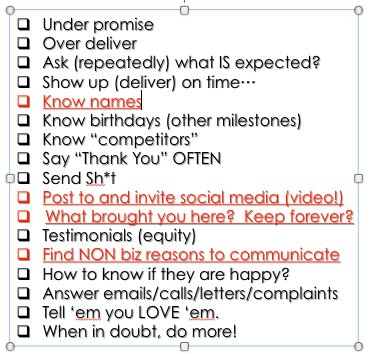 These points are an amalgam of my experience combined with an age-old pamphlet written by Fred Poppe of the one time New York City agency, Poppe-Tyson.  Those highlighted in red were referenced in my presentation, yet all are valid!  Does anyone remember him?  Bottom line – there's no cutting edge wisdom anywhere!
Everyone knows the customer service basics in his or her industry...
Those steps are almost always relatively easy to take…
Equally unfortunate, most don't take 'em!
Leadership has to commit to train, to do the right thing, and to do so repeatedly and often, and most vital, to lead by example!  Nothing is more important than seeing what the boss does!
As long as I'm wound up, consider these pet peeves – easily rectified, yet there are culprits everywhere – think of whom you know:
Emails that don't have contact information in the signature?
People who have not recorded a message on their mobile so upon calling you are 100% sure it's the number you desired.
People who don't respond to voice or emails.
(The last is NOT just the salesperson in me who gets frustrated, but the human who wonders why management would allow such sloth.  Admittedly, there are instances where it is management who is at fault!)
While we're at it:
When a person says, "Thank You", the correct reply is, "you're welcome!"  Period.  It is NOT; repeat NOT, "no problem."
I might have once classified this as a generational issue, but folks old, young, in biz and all walks of life simply are wrong when they say "no problem!"
And, right here in this newspaper media world will someone PLEASE tell every single operator of web sites with "infinite scrolls" (no doubt there's a technical name, but you know what I mean – scroll down and more content gets loaded) that every single customer or visitor thinks this "feature" SUCKS.  Stop it now!
Sheesh.
Thanks for "listening" and tolerating my screed.  I'll get back to revenue ideas next month, so keep those ideas coming.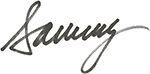 P.S.  Come June 19th to 21st if you are anywhere near - short flight or drive - Atlanta you should consider it your money making duty to attend the revenue focused conference sponsored by Inland, SNPA and Mike Blinder.  It's titled Mission One: Revenue and is chock-a-block filled with revenue ideas.  Plus, every attendee will receive $1,500 dollars worth of valuable training and research.  I know all about the research and will guarantee it well worth the price of admission and any travel expenses involved.   Learn more HERE!