Fall Greetings:
I heard a line recently that really resonated with me: "Social media severed our relationship with reality."
Think about it for a second and you'll likely agree it is true on so many levels.
Here's another:  Maybe democracy doesn't work?  It's worth contemplating that for a moment!
The following tidbits or observations fall in the had to share category - Let me know what you think?
Not long ago I was talking to an old friend in the television consulting world.  He makes sure each time he visits a client he tells them something they did NOT know about their station or their market.  A great piece of advice certain to help with customer retention!
You might not have heard of a company named Gong.  I love what they do!  Find 'em at www.gong.io after you finish reading.  Gong records each-and-every sales call, then applies AI-powered analytics to identify things like:  What verbiage works best for closing different products or services?  Words to avoid?  When is the best/worst in a sales cycle time to ask for an order?  You get the idea.  What a cool concept!
Since March of 2020 my little one-man company, Wormhole, Inc., has received what must be 1,000 invitations to apply for a loan as I've been "pre-qualified" for $765,000 (or more) based upon my "business profile".  No doubt you've seen these, too.  Sure, I recognize the incremental cost of One More email approaches $0, but don't these people realize they actually piss-off recipients and hurt productivity?  When will action be taken to eradicate these distractions?
Here's a quote from an op-ed piece written by Esau McCaulley, an assistant professor at Wheaton College, I bet you love, too: 
"Most students who fall in love with learning do so not because of any particular curriculum but because they encounter a teacher who gives them permission to think."
I bet the same would apply to a mentor or boss many of us encountered early on in whatever career (s) we pursued?  Does your current boss let you think?
Earlier this year I had the pleasure of sitting in on a webinar interview with Condoleezza Rice, the former Secretary of State and before that National Security Advisor under President Bush.  There were multiple takeaways, and I will certainly not do her justice but wanted to share my favorites (in order and with my comments):
 She estimated, "…something like 80% of the populace wasn't polarized", so why isn't more "voice" given to that majority? [IMHO this observation demands more airtime or ink!]
 Related, "…absolutists don't compromise."
 [This is great] "Democracy is the institutionalization of Freedom!"
She offered a few simple suggestions:
 Force yourself to avoid filter bubbles and genuinely understand alternate points of view.  (See paragraph #3 of this edition!)
 Control your ego.
 Help people with less.
Gotta tell you, it was remarkably refreshing to hear a very level-headed, experienced presentation covering politics, international affairs, climate change and then some.  Wonder if we'll ever see her again in the political arena?
Let me wrap up with a wonderful quote attributed to Thierry Stern, President of the luxury watchmaker, Patek Philippe.
"At Patek Philippe, it can take years to train our skilled specialists.  It is one of the reasons we do not make more watches than we produce today.
We are not magicians.  At our family-owned company, everything we do relies on the skills of our people.  Very human skills which cannot be rushed or replaced.
Only humans can accept the challenge to always be at the edge of what is possible."
I especially like the final line.  Are we – in whatever our profession - up to the task??
Happy Halloween to ALL!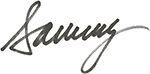 P.S.  If you've not viewed the TED Talk from Chuck Plunkett about democracy dying when local news dies, check it out HERE.  Must viewing!