Greetings:
Last month I suggested new business model (s) or innovation (s)  NEWSpapers need would only be possible via "aggressive collaboration" amongst fellow media partners AND the myriad businesses supporting the industry.  Or, said differently, that it would not come from within.
The reaction to this suggestion would politely be characterized as a "mixed!"
I bet 30 readers responded, all with a "thumbs up" or "well said" or some sort of positive reply.  However, NONE of those 30 were NEWSpaper leaders or operators.  All worked in different industries or perhaps once worked in the media world.  I'm not 100% sure what this means, but I hope the lack of industry response doesn't suggest complete disagreement.
All this got me thinking – a problematic endeavor – Why should my point of view be worth considering?  Anyone can publish an e-newsletter, blog or podcast, right?  Why should her/his point of view carry any weight?  Does the dude have any idea what he's talking about?
Let me recap the roles I've played in support of NEWSpapers:
1.   From 1981 to 1996 I worked with my father at the Papert Companies when national representatives still existed and could influence or genuinely sell advertising.  At one point we had 500 NEWSpaper clients, 17 sales offices and 50 (Holy Smokes!) sales reps nationwide. 
2.  For the subsequent 10 years my professional home was Belden Associates, the very well-regarded media research organization.
The early days of the Internet was a fascinating time to be a researcher.  So much was unknown.  Many assumptions proved faulty or even ruinous.  I could go back and reconstruct the count, but I bet we conducted 150 studies of wants and desires of newspaper website users and how those differed from the printed user.  If ever there was a time to "listen" to customers and prospects, this was surely IT. 
3.  While at Belden, we formed a marketing partnership with Pulse Research to sell what was then called AdSeller.  We're coming up on 20 years of success together.  This innovative, data-driven presentation engine has helped thousands of reps sell tens of millions of dollars of local advertising and has improved enormously since its launch. 
With the latest iteration - Pulse IMMEDIATE or LOCAL – there is simply no better way to identify and start a conversation with any local business. 
When appropriately used, exactly 100% of the time a local business prospect will ask the media rep, "…what do you recommend I do?"  If that magic cannot be converted into a campaign, we're in more trouble than I thought.
4.  As Wormhole, Inc. I've done classic consultancies for the likes of the Reynolds Journalism Institute and served as the interim Ad Director of the now Boone-owned Lake Charles American Press. 
Every bit as fun and meaningful are the tiny bits of help and advice I provide Saambaa and SideStage.
All that's to say, the NEWSpaper space is one I know!  Not only have I been on literally 1,000's of sales calls and sold $1,000,000's of dollars but have seen bits and pieces or involved with something like 500 research engagements.
How many combination sales guys + research geeks do you know?
The innovation required to create a sustainable business model for the entire NEWSpaper industry will only happen if operators "aggressively collaborate" with each other AND enlist the out-of-paradigm help ALL their supporting partners will gladly provide.
Our ultimate mission is one and the same - Save Democracy – that laudable goal is within reach, but only if we work together.
I say, "Let's Start Now!"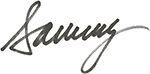 P.S.  Very closely related are some of the things LMA is doing.  Read what Guy Tasaka had to say HERE.