A few will remember comedian Steven Wright (haven't heard of him performing in ages) whose deadpanned, unemotional delivery underscored his quirky observations about life. Things like, "…I plan to live forever; so far, so good!"  Or "…I've never seen electricity, that's why I don't pay for it!"
As a longtime partner and observer to the newspaper industry who has worn a variety of hats – sales, research, consulting, savings – there are times the only thing to do is LAUGH.  Sometimes at a decision and at times at how that decision is justified or explained.  I bet there's a weekly occurrence that baffles me so thoroughly the only solution is to chuckle!
Without naming names – people or companies - see what you think about these.  Bet you come to the same conclusion – laughter (unless these strike too close to home?) is the only response:
Just recently a 10,000 distribution, 6X a week small-town daily raised their total subscription package (print, digital, everything) to $105 a month.  That represented a 45% increase in the existing rate.
"We don't think there's enough of a reason to make the change you're suggesting, yet we surely appreciate you thinking of us!"  (In this case, I estimate the "change" would save this organization $10,000,000.  You read that right!)
"…we're only focused on the tried-and-true projects and opportunities that have worked in the past."  (Note:  see how I'm resisting comments?  Just laughing.)
"…my team is thoroughly overworked right now, and I cannot ask them to do more or different without risking rebellion."
"…will you guarantee the 20X ROI your proposal predicted?"
"…what you are suggesting is so interesting, but I just started working here and need to learn the ropes before introducing anything new."
It's been quite some time since I've heard this one, "…business is so good there's no need to try anything new!" 
Of course, of late, it's been much more common to hear, "…business is challenging as hell, so I cannot try anything new!"
No telling if these comments brought a smile (my hope!) to your face or proved sobering and a cause for reflection.  Either way, I use them to queue up what I found to be the highlight of a terrific NY Times interview with Rich Lesser, CEO of the Boston Consulting Group. 
Business reporter David Gelles asked the question: "What were the common characteristics of C.E.O.'s who managed to do well over the last year and a half?"
Lesser's response nails it – The ability to learn very rapidly, and not just consume knowledge, but to translate that into experimentation and action.  A purpose-driven, authentic style.  Empathy, for sure.  And a high orientation to adaptiveness and agility.
All, I might humbly add, is these leadership traits will serve wonderfully ANY time, so well said, Mr. Lesser!
Do those characteristics describe your boss (es)?  How about you?  It's a helluva good list and there's no time like the present!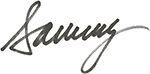 P.S.  For the record, I WILL guarantee a 20X ROI!