Fun to Share!
I'm not quite sure what pithy and/or insightful point I'll wrap this up with, but here's a story I'm still smiling at and simply must share…
…During a recent trip (hooray!) I was waiting in a short queue to be seated for breakfast in a hotel near Logan Airport in Boston.  Seated nearby, as if waiting for someone, was a man reading a gastroenterology (yikes!) textbook.  Pretty exciting stuff.  When I reached the front of the line, I let the hostess know I was a "single" but added, "…unless this gentleman wants to join me?"  Unexpectedly, that's just what he did!
As we approached our table, I asked his name and learned it was "Sami"!  Surprised, I chuckled in reply, "…you won't believe it, but that's my name, too!"
Throughout a very interesting breakfast (pretty good corned-beef hash I splurged on!) we shared backgrounds, favorite books, what brought us to Boston, careers, family tales, almost as if it was a first date.  My new friend is an attending at Mass General, a new father, immigrated from Khartoum and in his spare time is working to leverage technology to better serve health care needs in his home country of Sudan.  Oh yeah, he's also a publisher!
Despite very different backgrounds, origins and a couple of decades, this serendipitous and enjoyable encounter was a vivid example and proof of a couple of things>
 Humans almost always have more IN COMMON that can bring us together than differences we tend to initially see and focus on.
 Different frequently means Good!  Whether that means reading a genre of book you don't normally choose, taking a different way home, watching synchronized swimming for the first time during the Olympics or deciding not to dine alone at breakfast.
Those close to me will tell you I'm steadfastly set in my ways (hogwash!), and I suppose it's possible they are mostly right.  However, it seems EVERY time I've truly done DIFFERENT the outcome, result or experience was better, and I learned something from it!
So, ask yourself – both personally and professionally – What Can I Do Differently Today?  Each of us makes hundreds of mostly automatic decisions every day, right?  I'm suggesting you consciously choose an alternate one and have no expectations.  My bet is you'll either be pleasantly surprised, learn something, or enjoy yourself or possibly all three!  I hope one loyal reader will follow that counsel and share!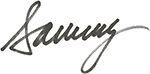 P.S.  You know the corollary, right?  If you always do what you've always done, then you'll always get what you've always had.  How's that working out?