Déjà vu, Dudettes and Dudes:
In an era when Amazon, Etsy, Shopify and just about any e-commerce site you can think of has gone gonzo the most interesting shopping experience I've had of late was in something called a "retail store".  Remember those?
The next time you're in a major metropolitan market and there's an EATALY location (37 worldwide and seven in the US)
You
MUST
Visit!
During a quick blast through Dallas, I made it a point to do just that and the bottom of my chin is probably still bruised.  Yes, it was a Saturday the High-End mall (NorthPark) in town, but I'm telling you, Eataly is retail on steroids.
There were:
Two large floors
I'd guess each at 20,000 square feet
Four dining areas – restaurant (sit down and cafeteria-style), expresso shop and snack shop
Dozens of associates, all eager to assist
Hundreds of shoppers
And EVERYTHING Italian imaginable.  Yes, food and drink to consume on-premises, but salamis and pastas and wine and meats and utensils and ceramic and olive oils and cookware and linen and spices and accessories and this is just a start!
(By the way, the mall was mobbed, with multiple smaller stores having lines queued up in front of them!)
Here comes the much anticipated (dreaded?) segue:
I'm wrapping up a local research engagement (yes, still do this occasionally!) to confirm a client hypothesis – users prefer the print distribution of news, information and advertising, not digital.
In a recent visit with a sales rep, all he talked about were his print clients, print prospects and print successes!
One of the most interesting conversations I've had recently was all about how to build "ad count".  There's little question other newspaper offerings should typically be a part of the solution, but the consensus solution is very print-centric!
Is old, new again?
Can traditional be cool?
What is going on here?
My take?  Consumers will pay for …. CORRECTION… consumers (your customers and prospects!) are desperate for quality (perhaps more so in post-covid times), be that a memorable retail experience or the consumption of news and information which resonates, educates, informs and ENTERTAINS. 
I wonder two things:
 Can positive experiences marry great and locally focused news and information distribution?  If so, what would that look like?  Is anyone merging them successfully?
 Which Publishers are growing their printed products and what are their keys to success?
Hit "reply" with your thoughts and reactions.  Especially, if you have ideas about building ad count and reclaiming the local marketplace.  Cannot wait to see what you got!
Best from the West,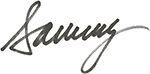 P.S.  Short YouTube clip that'll give you a taste of EATALY HERE