Good Day, Mates:
What Are You Thinking?
That's what I kept asking myself during this past week when each of the following occurred ~ ~
During one of my "telephone" days (most weeks that means Tuesday and Thursday) I made close to 50 calls.  I bet 15% (maybe a bit more) had not personalized their "greeting" on the line I called, be that mobile or office.  IF you are in that 15% you are hereby ordered to FIX THAT before I call again.
If someone is reaching out and you neglect to take advantage of this "TOUCH" by differentiating yourself and creating a little eMoTiOn, with the hope she or he ends up being delighted they contacted you, then something's not right.  And I cannot conjure up the right words for those who have not set up their voice mail on their mobile device or have a "full" mailbox!  Please re-think such behavior.
I conducted several virtual four-legged calls with a client to support sales efforts and perhaps offer suggestions.  I was the "lead" on most, but not all of the appointments.  On several calls, my "partner" lead the discussion and I quickly became disillusioned when so many opening salvos went something like this:  "…would you like to participate in our annual 'Best of' (or whatever) edition with the same size ad as last year or would you like a larger ad at a greater discount?"
Really?  Are you kidding me?
(The question is what was I thinking in this 3rd occurrence?)  I missed a scheduled call with a prospective partner I was and am very excited about.  There was no "good" reason; I simply got distracted by who knows what and blew it!  Ugh.  This happens to everyone.  Perhaps more in these times with seemingly endless virtual connections.  Yet, it remains a transgression I feel worse about than just about anything.  I can literally feel my blood pressure rise when I've done this or, when it happens to me.  Yes, it was easily rescheduled and, yes, the follow-up meeting was very productive.  And, yes, I've attempted – in both words and deeds – to apologize and make it up, but still, feel bad.  (See my P.S.)
On the other hand, I've been "stood up" twice in the last week.  Nary a "I'm sorry" or "I feel horrible for missing our call" or any hint of contrition.  Dare I say it again?
What are you thinking?
I just renewed the Papert household subscription to "my" local newspaper.  One thing totally surprised me – my only term options were for one or two months.  I would have gladly renewed it for 52 weeks – guess those are now the "good old days"?
Of course, the annoyance is actually keener since the fine print in my confirmation renewal points out the 8-week subscription will automatically renew "as a convenience".  Yet another example of this industry not thinking and treating the most loyal customers like crap.  We ALL know who this really serves, and it borders on insulting to call it a "convenience"!
Let me say for the final time, What Are They Thinking?
Everyone has an example or dozen of backward thinking, antiquated "policies" or indifferent customer service experiences that drive us crazy.  IF you are in a position to address these in your organization, what are you waiting for!  IF you are not, yet you know they exist, then you have a moral obligation to point out such outlandishness to your boss; anything less is tantamount to disloyalty!
Take That!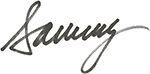 P.S.  Just to be sure you know – when an appointment gets canceled at the last minute and you find yourself with a "surprise" 30 minutes or an hour, consider it a "gift of time", something that's rare (we ALL wish we had a bit more time) so make the most of it!