August Greetings:
Today I want to tell a tale, then leave you with a challenge.  Please hang with me as I share two decidedly different customer "service" experiences to set the stage…
Everyone will recognize the first one.  This happens to be AT&T, but you can fill in the [blank] with your own frustrating encounter.  Here's my shortened version of an excruciatingly long saga:
It was time for a new mobile phone.  My iPhone 6 had seen better days!
No doubt this was unintended, but an AT&T in-store customer service rep recommended that by taking advantage of a special, limited offer we could buy two phones for the price of one AND reduce our monthly financial commitment.  That's just what the Papert's did.
Unfortunately, when the initial invoice arrived, it was NOWHERE close to expectations.
My calls to the customer service 800# provided the usual time sink and elevated blood pressure, so I sent a letter (remember those?) to the CEO outlining my experiences and complaints and marked it as if a CC went to all AT&T Board Directors.
Within a week I received a call and email from the Office of the President.
Two phone calls later and I think the situation has been successfully resolved.
All told I spent approximately FIVE hours!
I say "think" since the follow-up bill has not yet arrived.  Ask me next month!
Compare that to my recent experience with the premium Napa Valley winery, CAIN.  Admittedly, a very different "product", yet in both instances, my account (s) would certainly be in the top ten percent as it relates to Customer Lifetime Value.
In this case (pun intended) I sent an email to the general CAIN email address outlining my issue/complaint (three bottles in one case had damaged or faulty corks!) and received a reply within two hours.  Better still, that note was followed up by a phone call.  Yes, a good old-fashioned phone call!  That, plus a follow-up note from their Direct-to-Consumer manager, led to complete satisfaction.  Problem solved!
Two observations, then my challenge:
 AT&T really does have an Office of the President tasked to resolve issues when a customer spends enough time to elevate it to that level.  No telling what threshold one has to cross to get "there", but if you are PO'd enough or the dollar amount is significant enough, there is a mechanism to respond to customer needs.  I'm assuming that WILL happen.  If it doesn't, I've got the direct number of the caseworker in that "office" (she's actually in San Diego) if needed.  Bottom line:  Give them credit for allocating significant resources to this issue.
 How many times does a customer have a legitimate issue or complaint and do absolutely nothing?  For whatever reason, they just grin and bear it!  There's plenty of data on this issue, but instinctively we all know toleration is hardly a path towards brand loyalty!
So, I ask, suggest, implore, strongly encourage, demand you act on the following:
Please take advantage of these times to create a world-class, ultra-cool, customer-centric process that reacts in warp speed to customer complaints or problems.  So much so that the one-time irate customer can only breathlessly react by saying (faithful readers know where I'm going)…
WOW!
Who's done or is doing this?  Will you share?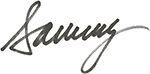 P.S.  Of course, the best way to solve problems is to avoid them altogether.  Perhaps there are a few of you practicing proactive customer service.  That's the story I'd really like to hear!